We're Focused On Keeping Your Office Running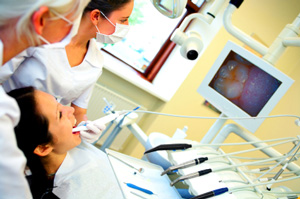 Dental technology is advancing at a rapid pace. It can be expensive and overwhelming to outfit and keep a modern dental office operating smoothly. At her recent 'Managing Information Technology' seminar for the Indianapolis District Dental Society, Bobbi Plummer, BP Interconnect President, outlined key objectives when dealing with dental technology. Objectives included: simplify common tasks, improve patient comfort, improve standard of care, tighten your connection to patients, meet regulatory and reimbursement requirements, and reduce labor/patient cost ratios.
We work with dentists throughout central Indiana to meet their technology goals in a number of ways including:
Technology Planning
We believe you need to manage technology, or it will manage you. We help dentists develop multi-year technology plans to keep your office current, reduce your time spent on technology, and help make expenses predictable and controllable.
We develop plans for new offices as well as to update existing practices. We can coordinate your technology needs with multiple vendors and provide guidance when deciding to incorporate new dental equipment into your current systems. We work with all major dental equipment and software vendors and are familiar with the challenges and advantages of various brands.
Installation
We install computer equipment and help integrate all of your systems and dental equipment. When adding new dental equipment we ensure that it is fully integrated into your existing information infrastructure, working with any of the many equipment and software suppliers you may be purchasing from.
Repair
The modern dental office makes use of technology in many ways including patient care, patient communication, patient comfort, patient history input/review, and back office tasks (Record keeping, calendar, insurance, follow-up, personnel, billing). We work to keep your systems up and running so that you can spend more time chair-side with your patients and your employees can focus on the work they need to get done.
Our goal is to first avoid computer failures when possible. However, when trouble does occur we work with dentists in a number of ways ranging from hourly billing to monthly retainers.
Service Contracts and Retainers
The primary benefit of a service contract is the significant preventative maintenance that we can provide. The benefits of a service contract include regular maintenance, regular monitoring of back-ups, remote repair, and vendor coordination of repair. (Vendor coordination saves your employees time and effort by letting our computer experts talk with your other hardware and software vendors to isolate and fix problems that may otherwise be difficult to fix)
We customize our contracts to the needs of each individual dentist based on their current technology. The goal is to minimize your technology downtime, lost employee time dealing with technology, and expense.
Call to find out more: 765-749-4168.